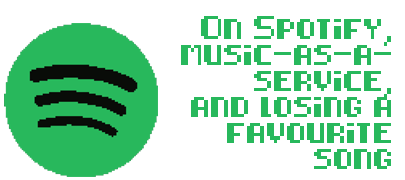 On Spotify, music-as-a-service, and losing a favourite song
"Loss is a part of life.
But there are some losses we can control and prevent."
A short essay for the Bitsy Essay Jam, about the importance of owning the media we find meaningful, and why the convenience of streaming platforms has consequences.
Made in Bitsy, with additional help from Pixsy and BitsyMuse.
The song featured in this essay is 'Wishing Wells' by The Colourist. You won't be able to find it on Spotify, but a nice person uploaded it to YouTube.